---
---
This is a New in box Jump Kit
All Colors available - ONLY A AUTHORIZED DEALER CAN SELL ALL 6 COLORS NOT 4
I'm providing FREE DELIVERY!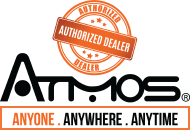 ***Every box has scratch and check verification and 
corresponding
 number!!!***
This device comes with a 5 yr. Warranty. 
If you have any questions don't hesitate to message me. Thank you. 
Highly portable dry material unit. It has a 1200mah battery and comes with a recharger cable and damping tool. Does not contain a temperature control, the Atmos Jump only come
This Kit Includes:
1 – 1200mAh Jump
1 – Easy-Access Mouthpiece
1 - Packing Tool
1 - Cleaning Brush
1 - Micro-USB Charger
1 - User Manuals with one temperature setting. 
So simply insert your fresh chamomile or damiana leaf and enjoy a fresh vaporing experience. The healthiest way to enjoy your lavender and peppermint.
---